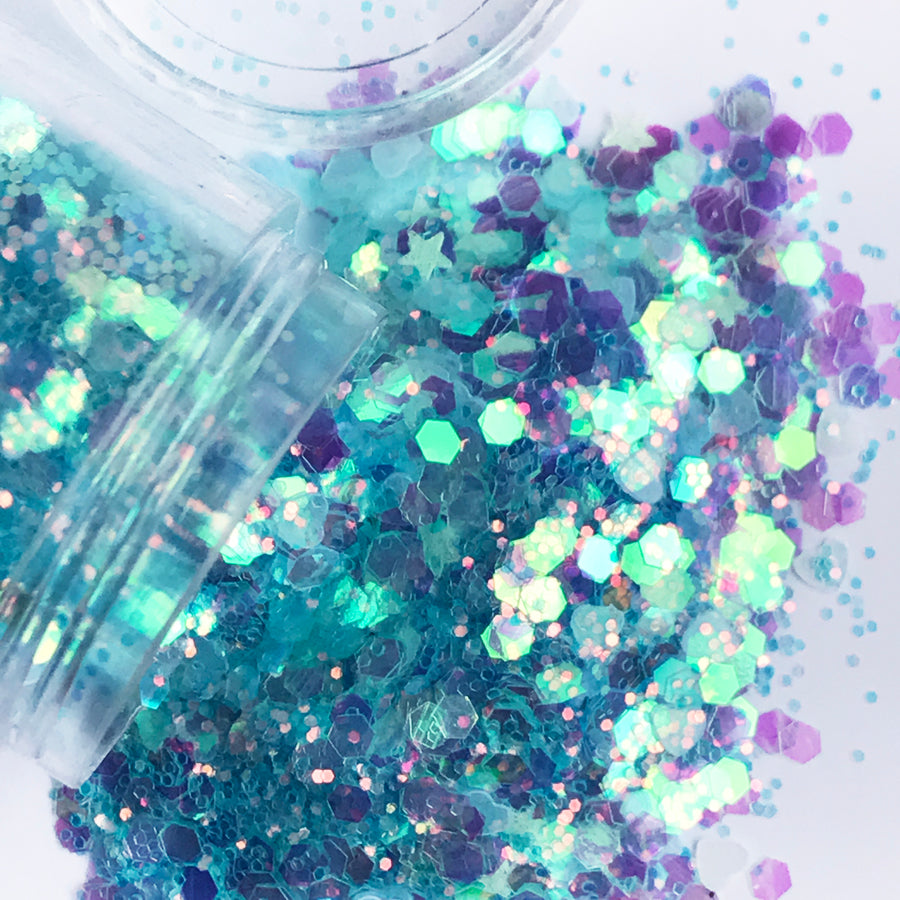 Glow in the Dark Glitter - Luna Blue
Introducing Luna Blue Glow in the Dark Glitter! She is the gorgeous middle sister of Mermaid Tail and Siren Scale with lilac hues that glow iridescent aquamarine as she shimmers
We have combined our love for GLOW and GLITTER and packaged up in generous sized tubs so that you can cover yourself from tip to toe in this magic star dust. The perfect festival accessory!
LUNA BLUE Contains:
The most gorgeous light aqua blue chunky scale style glitter that is iridescent pink as it moves
Vegan and cruelty free
10 grams of high quality chunky glitter in a pot for Aussie customers and zip lock bag for our international babes
Contains glow-in-the-dark glitter to keep you shimmering through the night
GLO Glitter Gel - to adhere your glitter to your cheekbones, decollate, hair...anywhere you can dream up - *if you are 'festivalling' you can use our Bindi Glue to stick down your glitter, which will turn it into a temporary tattoo that lasts for days!!
GLO Glitter application brush
GLO TATTS canvas carry bag to keep your sparkles safe
Please note; glow in the dark glitter needs to be activated with a UV/Black Light or light source such as your iPhone torch


One application brush and fix gel comes with each order - you can purchase more here
GLO Glitter is safe for skin. Avoid contact with eyes and do not ingest. Always spot test before using, especially if you are allergic to adhesives. 
HOW to wear GLO Glitter:


Add GLO Glitter to your hair by applying GLO Fix Gel, then use a generous amount of Glitter to really make your part sparkle.




Apply to your cheek bones and eyebrows, and to really give it that 3D sparkle effect add some of our

Crystal Bindi's

 amongst the glitter.




Try mixing up different colours to create your own shimmering effect.




For more styling tips, follow us on our

 Instagram or check out our GLITTER GUIDE