We just can't get enough of the delicious fabrics & prints by our beautiful friends at Spell & The Gypsy Collective. So for Saturday in the Grass, we collaborated so that all our GLO girls were rocking the current Spell collection. Cue "Spell Skirt Swish"
---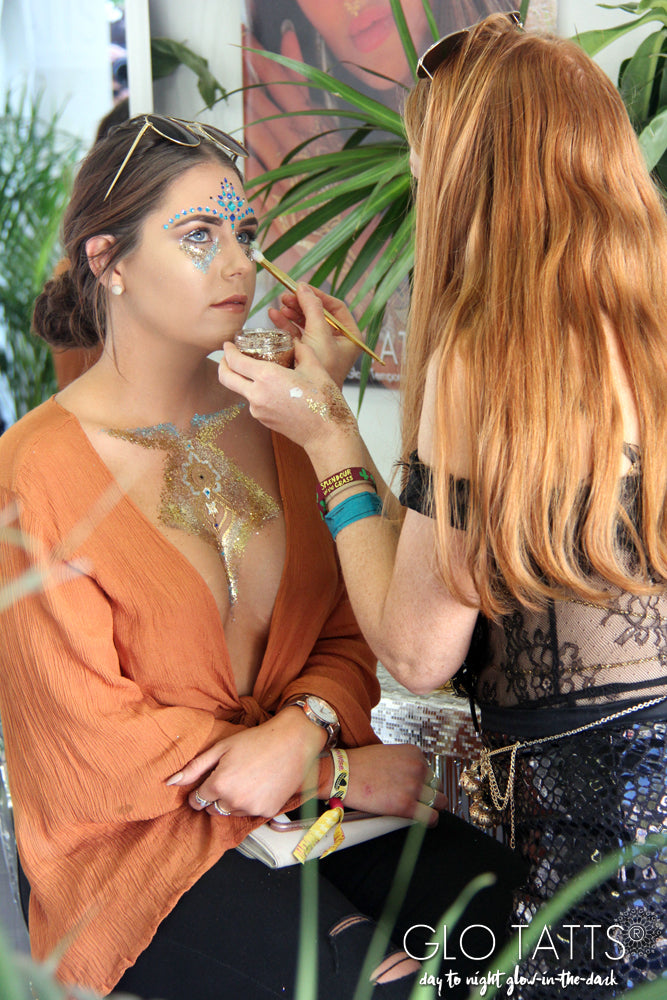 With Burning Man just around the corner in the US, we've got all the feels of Splendour in the Grass rushing back. Its only been a mere 3 weeks, and metaphorically speaking, we still haven't shaken all the glitter out of our hair. 
For our Friday trade we stepped into the shadow of the previous days 'mermaid/unicorn' inspired looks, opting for a more little more flirt in slinky pieces by Grace Bijoux, We are Submarine, HerPony, Ghetto The Label, RadaPriya + more
We sparkled using our Bindi's, Glitters, Tattoo's & Hair braids in shades of precious metal
Read the article →
---
Blues and Roots Festival Byron Bay 2015
Thousands of music fans from all over the globe, we being just some of them, gathered in Byron Bay over the Easter long weekend to attend Australia's largest blues and roots festival. And it did not disappoint.
 The rain came thick and heavy in moments that created mud fields and stomping puddles, followed quickly by bursts of sunshine setting the scene for five days of music bliss, food to tantalise the taste buds from all corners of the world, fresh cold beer to wash it down and a feast of fashion from...
---
Night 5 at Virgin Australia Melbourne Fashion Festival was the surprise party of the event! InStyle Magazine presented the runway for their 15th Anniversary, and it was dessert for breakfast lunch and tea. GLOTATTS met with all the pre show beauties, giving out our tattoos and snapping a few of them to share with you. 
Inside the bubbles flowed as we sat front row and took in the runway featuring Macgraw, Arthur Galan, Thurely and the divine Camilla - who almost had us on our feet cheering with delight. The models came out with giant balloons...
---
As autumn seeps into the Melbourne air, a certain excitement begins. Melbourne Fashion Festival has taken hold of the city. Formally sponsored by L'Oreal, this year Virgin Australia is at the helm, and curiosity is evident with all the Fashion Festival veterans. One could say that we, the girls of GLO TATTS are part of this dedicated following, having not missed a single year at this event since relocating from Byron Bay over 8 years ago. Despite world travel, starting families and busy schedules, somehow we find ourselves submitting to the pull of the...
---